Paver Cleaning & Sealing Services
Every home and business deserves to have clean outdoors. At Radiant Exteriors, we provide complete power cleaning and surface sealing services to help maintain a flawless outdoor look and feel for your property. From power cleaning to concrete sealing, we offer a wide range of services to both commercial and residential clients throughout the Pasco, Polk, and Hillsborough Counties. Find out the different types of services that we offer.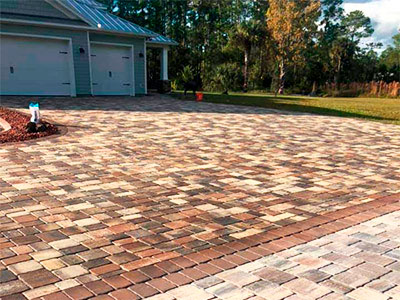 Pavers Cleaning
Power washing allows you to retain the looks of your paved surfaces while restoring your property's looks. When you invest in pavers, it is also important to take care of your outdoor features. Our professional paver cleaning services can help preserve surfaces and reduce the need for repair maintenance. We provide pressure washing services for different types of surfaces including concrete, brick, and stone.

We provide power washing services for different types of paved surfaces including driveways, walkways, sidewalks, and patios. Pressure cleaning is often the only solution when such surfaces have been left too long without cleaning and develop stubborn buildup, weeds, and stains. Surfaces with greater foot traffic often require more frequent cleaning. Besides, Florida's typical conditions tend to make paved surfaces dirty, dusty, and grimy earlier than in other regions. We offer cost-effective and quick paver cleaning services that extend the life of your surfaces. Read More About Paver Cleaning »


Travertine Sealing
Travertine surfaces need more care to preserve them and extend their lifespan. Sealing travertine helps protect the stone from different forms of spills, chlorine, and chemical cleaners. It will also prevent etching or scratches on the surface. Our sealing service will also enhance the structural integrity of the surface and improve your property's curb appeal.

You do not want to move heavy furniture on a travertine patio or any other travertine surface that has not been sealed. There are different ways that our travertine sealing service can protect your travertine shower tiles, flooring, pavers, pool deck, wall tile, pool coping, and courtyards. It will keep your surfaces protected against the harsh Floridian sun, the elements, stains, oil, and rust. The seal will also inhibit the growth of weeds and infiltration by insects and mildew. If your travertine patio already has scratches, our experts will hone or buff the surface before applying the sealant. Read More About Travertine Sealing »


Concrete Sealing
Concrete is often used as a material for floors are driveways because of its high durability. Still, it needs to be protected from the elements, high traffic, and other factors. It is recommended to seal concrete surfaces on your property at least once every 4 to 5 years. This will prevent water penetration and protect the surface from a wide range of damages. Our concrete sealing services will also add more years to your concrete surfaces, saving you money over the long run.

We provide sealing services for different types of concrete surfaces including exposed aggregate concrete and stamped concrete surfaces. Besides providing physical protection, the application will also prevent damage from UV rays. The different benefits include repelling moisture, preventing color fading, preventing cracks, and resisting permanent staining. When you choose concrete sealing, it will be much more cost-efficient compared to reconstructing your driveway. Read More About Concrete Sealing »


Pressure Cleaning
Pressure cleaning must be a part of normal life for businesses and homes in Florida. The combination of warm, wet, and sunny conditions creates the perfect environment for your driveways, parking lots, sidewalks, and other outdoor surfaces to become dirty and build grime, mold, and mildew over time. Our power cleaning services can turn your dirty outdoors into inviting spaces, enhancing your property's curb appeal.

Periodic pressure cleaning is recommended as a cost-effective way to maintain the looks of your outdoor areas. Our power cleaning service acts as part of a preventative maintenance service. When mildew and other buildups are removed in time, it prevents rot from setting on the surfaces. Our services also help enhance the value of your property. Besides, you will be able to keep various contaminants such as mold, algae, and bugs out of your home or office. We pressure-clean driveways, walkways, patios, sidewalks, pool decks, and even wooden surfaces. Read More About Pressure Cleaning »


Efflorescence
All cement-based surfaces go through efflorescence. You have often seen it grow over the tile and cover the shower drain. It is recommended to remove and treat it to prevent cracks from forming in the grout and tile. We provide both efflorescence removal and prevention services. Heavy efflorescence on driveways usually means there is poor underlying drainage. So, you will have to take steps to improve the drainage. Acid wash and special chemicals can help get rid of efflorescence.

Efflorescence mostly affects the looks of different surfaces including paving stones. When it comes to sealing a new concrete surface, we will wait for the efflorescence to appear before removing and sealing the surface. This is important to prevent the white haze from getting trapped inside the seal. We may use efflorescence blockers in scenarios where it is not possible to prevent efflorescence and there is a need for regular maintenance. Read More About Efflorescence »

For more information about our services, feel free to contact Radiant Exteriors at (813) 551-7157. You can also write to us and we will get back to you at the earliest.